June 30, 2014 by: Ann Harwood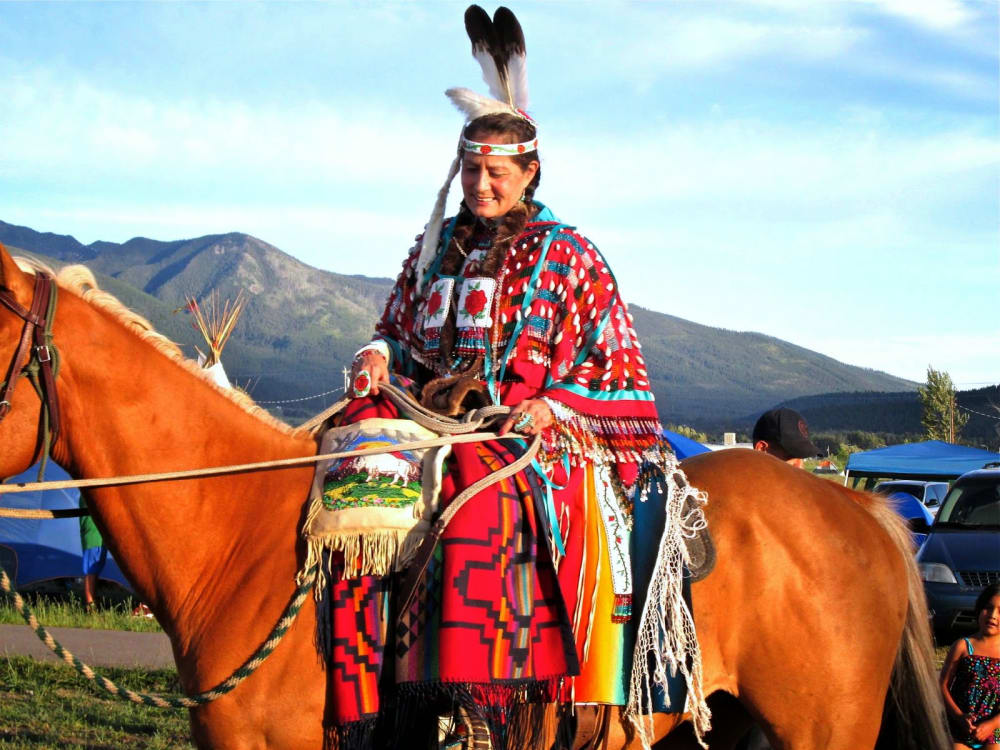 Arlee 116th PowWow Celebration near Bear Spirit Lodge
Patricia McClure Buffalo in Arlee July 4th Parade
The 116th Arlee Celebration PowWow in Arlee, Montana, starts on Wednesday, July 2, 2014, with the annual "Campers' Day."
Patricia McClure Buffalo, pictured above, is the lead woman dancer throughout the entire PowWow. Patricia is the niece of Salish elder & spiritual leader, Johnny Arlee.
On Thursday, July 3, the "Old Style Day"is highlighted at 7 pm with a War Dance & Evening Parade.
Friday, July 4th, the annual Snake Dance starts at 2 pm with all the dancers entering the arena & "snaking" through the arena. It was the Native American tribes way to maintain their traditions by saying that they were also honoring Independence Day on July 4th like the government of the USA. Until then, their dances and ceremonies were "outlawed" by the U.S. government. The grand entry of all the dancers will be at 7 pm.
On Saturday, the Grand Entries will be at 1 pm & 7 pm, & Sunday at 2 pm. It is a colorful honoring of the Native American traditions & culture, especially honoring the elders.
Vendors selling food, traditional fry bread, & all kinds of products are for sale throughout the PowWow grounds. Many people camp, erect tipis, & stay in their RVs.
It is a great summertime in western Montana! Come see us at Bear Spirit Lodge!