June 7, 2010 by: Ann Harwood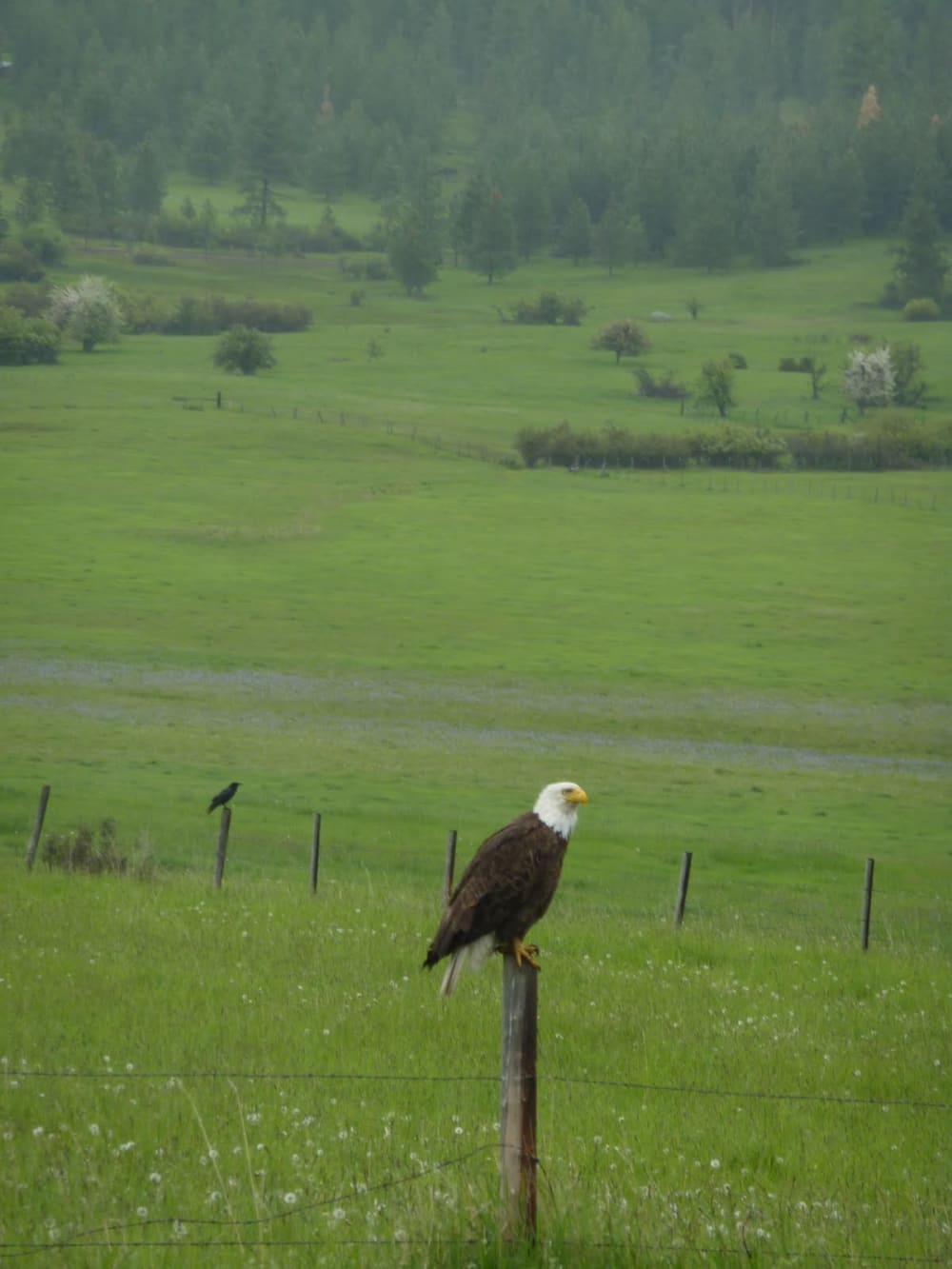 Bear Spirit Lodge Bed and Breakfast: Photography, Birds and Bison
Montana is known as Big Sky Country, a fitting description of the wide open land found in most of the state. One advantage of these big skies is the great raptor and other bird viewing at almost all times of the year. Some great B&B guests from nearby Spokane, WA, were here recently for the weekend just for the fabulous opportunities and the thrill to photograph the multitude of wildlife in the are. In fact, the picture of the Bald Eagle was taken on the side of the lane into Bear Spirit Lodge B&B on Memorial Day by me. (I thought it was very fitting to see a Bald Eagle up close and personal on such a patriotic day).
A spectacular pair of birding areas is Ninepipe National Wildlife Refuge and the National Bison Range just a few miles from Bear Spirit Lodge. The nearly 3,000 acre refuge, is contained within the Flathead Indian Reservation and was founded in 1921 around an existing irrigation reservoir. The area includes more than 800 glacial "potholes," providing excellent bird habitat. The Refuge was named after Chief Joseph Ninepipe, a Bitteroot Salish Chief. One of the most consistent waterfowl spots in the state, this public marsh located in the heart of the Mission Valley produces plenty of ducks and geese. It is also a major stop-over spot for Pacific Flyway birds.
From a single observation point in the wetland areas of Ninepipe you can see abundant waterfowl, Bald and Golden Eagles, nesting colonies of Great Blue Herons and Double-crested Cormorants, several species of hawks and falcons, American Avocets and Black Swifts, all under the backdrop of the beautiful and rugged Mission Mountains.
The nearby National Bison Range complements Ninepipe with grassland species such as Grasshopper Sparrow and Gray Partridge, as well as higher altitude species like Clark`s Nutcracker, Lewis`s Woodpecker, Mountain Bluebird, Red-naped Sapsucker and Townsend`s Solitaire. Looking out over the valley from Antelope Ridge, you can imagine the days when tens of thousands of bison roamed the state grazing prairie grasses, and providing cowbirds` original native habitat – their own backs.