July 31, 2014 by: Ann Harwood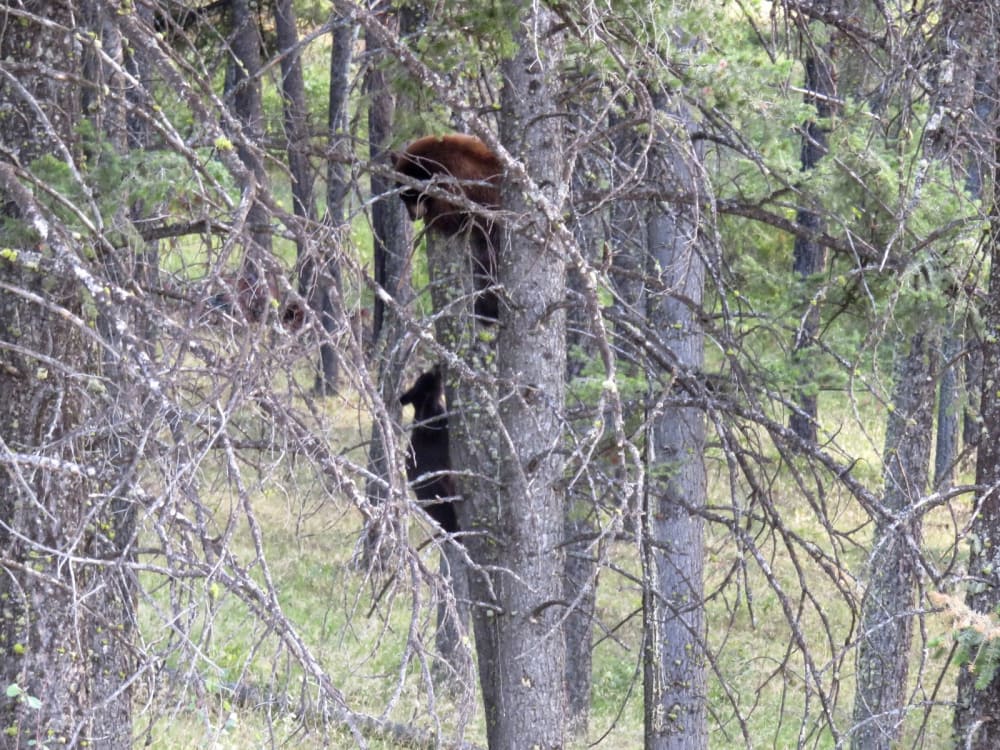 Bears, Bison, and Beauty at the National Bison Range near Bear Spirit Lodge
Mama Bear, Baby Bear, & 1 more Baby Bear on the Ground
Teddy Roosevelt is the namesake for Teddy bears, and he was a great protector of wildlife. He founded the National Bison Range in the early 1900s, and the Bears & the Bison are abundant in 2014.
The smallest bears in North America are from the Black Bear family, and vary in color from black to brown to cinnamon, and come in all shapes and sizes. The average black bear weighs 300-400 pounds, and can run up to 30 mph. On the average a male bear is 4 years old before he breeds. The female bear is usually 5 years old before she has cubs.
Bear mamas develop a very strong bond with their cubs, and look after them incredibly well. The cubs stay with their mom any where from 1-2 years, and then they are out on their own. Mama bears are great protectors of their young!
Pictured here is a mama bear who ran across a field with her cubs. She scurried up a tree in the forest and the bigger cub, too. However, the little younger cub could not climb the tree, so Mama bear went back down the tree to take care of the little bear. Such a heart rendering sight!
Although bears are carnivores, only 1/4 of their diet is meat. They eat mostly plants, grubs, insects, and other vegetable matter including huckleberries. Every May after hibernation, bears come down from the upper mountains looking for easy food. They start by getting into bird feeders, and so it is time to take down the bird feeders when this happens. They also go "swimming" in the pond in the front yard of Bear Spirit Lodge B&B, named for the many bears observed here on the land.
Bears have a larger territorial region. They are solitary animals, and are quite active early in the morning, the evening and at night. Although it is called hibernation, black bears do not go into deep hibernation in the winter, but are dormant.
At the nearby National Bison Range, bear sightings are common & fun to watch!
Come go on a Photo Safari with Great Bear!