May 12, 2012 by: Ann Harwood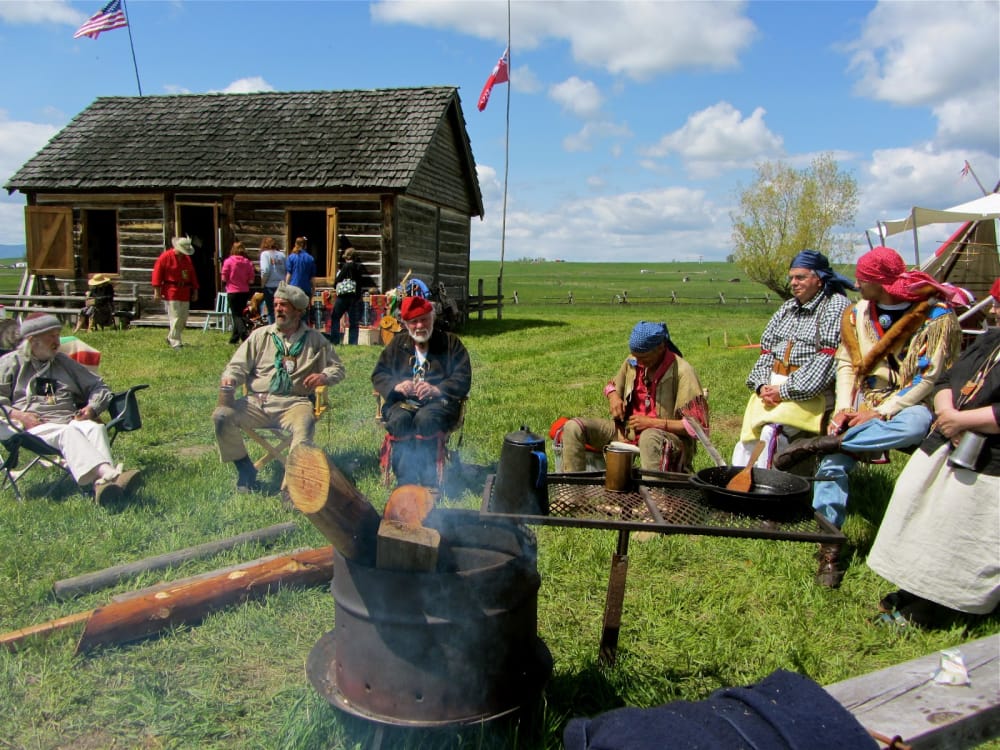 Historic Fort Connah near St. Ignatius, Montana B&B
Hudson's Bay Company Historic Fort Connah
Fort Connah was a trading outpost established in 1846 by the Hudson's Bay Company. Despite it name, it was never a military station. Fort Connah, a few miles north of St. Ignatius, MT, offers a beautiful opportunity for travelers to get a brief glimpse of early history in Montana. It is the oldest wooden building still standing in Montana - a hand-hewn, 375 square-foot log building that is the only survive structure of a once bustling fur trading post build in 1846 & operated until 1871.
Massive 10-inch-square, hand-hewn timber posts support the corners. Timber beams run horizontally to form the walls. Each beam is cut at its ends to fit into a notch carved out of the post - a type of construction used often by Hudson's Bay Co. for its trading posts, called "post on the sill" construction. In 1975, volunteers of the Fort Connah Restoration Society took the structure apart log by log & poured a new foundation. Then they reconstructed the building just as it stood in the 1850s.
Fort Connah is significant for a variety of reasons. It is an example of the fur trade, one of the earliest industries in western Montana. It preserves the heritage of two cultures, white settlers & Indians, who came together in good faith for commerce & interacted with goodwill. "The Indians would bring in their buffalo robes & their beaver pelts," said George Knapp, the President & a strong moving force behind the Fort Connah Restoration Society. "They would trade for goods like weapons, pots, pans & blankets."
The Hudson's Bay Company sent Scotsman fur trader Angus McDonald to Fort Connah with his wife of Nez Perce/Mohawk/French descent & their family. In 1847, McDonald completed construction of Fort Connah, which has the distinction of being the last Hudson's Bay Company post to be constructed in what is now the United States. In 1871, Fort Connah was closed by Duncan McDonald, son of old Angus who had opened it 25 years before. Angus was very well educated in Scotland, & as a young man, moved to Canada to work, & eventually to the Northwest.
He was particularly a great reader & "student" of Shakespeare, as reflected in his writing style in his personal journals. He, his wife & 13 children moved from Washington to Montana, & back to Washington. In his later years, he moved back to Montana, bought land, & ranched 2,000 head of cattle in Mission Valley near Post Creek. He has many descendants that live in Mission Valley & the Flathead Reservation, including Dr. Joe McDonald, founder & President of Salish Kootenai College until his recent retirement.
A family cemetery near Post Creek is a few hundred yards away from Fort Connah. It contains the graves of Angus McDonald & his wife, Catherine.
The Fort Connah Restoration Society invites people to Rendezvous to visit & participate in living history demonstrations & storytelling twice a year. The next Rendezvous at Fort Connah will be in mid-August 2012.
Come stay with us at Bear Spirit Lodge B&B & experience the Mission Valley!