October 19, 2010 by: Ann Harwood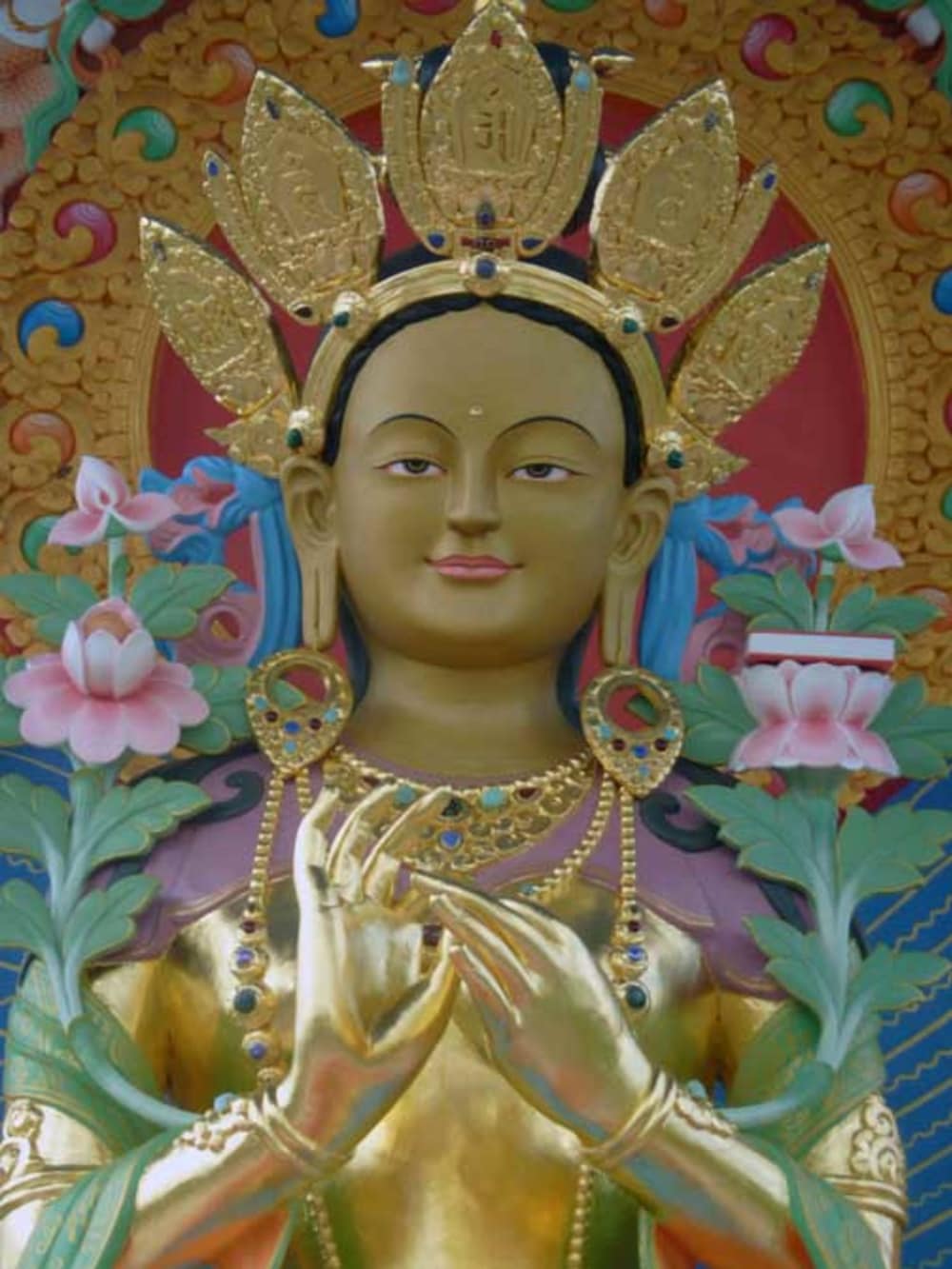 Montana Bed and Breakfast near to the Garden of 1000 Buddhas
The mountains and valleys of western Montana are rich in culture, history, nature, and faiths and religions of the world. Pictured above is the "Great Mother", Yum Chenmo, the 25-foot central figure of the Garden of 1000 Buddhas.
Only twenty minutes from Bear Spirit Lodge, the Garden of 1000 Buddhas is being created on 60 acres just north of Arlee, MT, and a few miles south of St. Ignatius. The Garden is in the beautiful Jocko Valley, and the nearby hillsides are full of a variety of evergreens, and native wildflowers are abundant in the spring and summer.
It is being created through the visionary guidance of Gochen Tulku Sang-ngag Rinpoche, an incarnate Tibetan Buddhist lama. His Holiness the Dalai Lama has said, "The purpose of our lives is to be happy," and that is the purpose of the Garden of 1000 Buddhas: to inspire peace, compassion and joy in people of all faiths. His Holiness the 14th Dalai Lama of Tibet has accepted Tulku Sang-ngag Rinpoche's invitation to perform the traditional consecration ceremonies once the Garden of 1000 Buddhas is complete in 2011 or 2012. The visit, to be scheduled upon the completion of the Garden, will be the Dalai Lama's first official visit to Montana.
The website, www.ewambuddhagarden.org, states: "The Garden of 1000 Buddhas will align positive properties of the physical world in a sacred architectural arrangement based on the eight-spoked Dharma wheel. This symbol evokes the 'turning' or awakening of the enlightened qualities of altruism and wisdom. The purpose of the garden is to bring about positive transformation within those who visit, in response to the negativity that abounds in the world today.
One thousand hand-cast Buddha statues will be arrayed around the central figure of Yum Chenmo, the 'Great Mother' of perfect wisdom. Another 1000 stupas—representations of the enlightened mind—will enshrine 1000 images of the female Buddha Tara and line the outer circle. It is hoped that the Garden of 1000 Buddhas will instill lasting impressions of peacefulness and compassion."
Hundreds of volunteers have been working diligently on every task from fundraising to casting the 1000 Buddhas and major construction of the site to gardening, cleaning, and working on committees. Plan to come to Bear Spirit Lodge Bed and Breakfast, and visit the magnificent St. Ignatius Mission Church and the Garden of 1000 Buddhas to spend a nice inter-faith day in western Montana!