September 29, 2011 by: Ann Harwood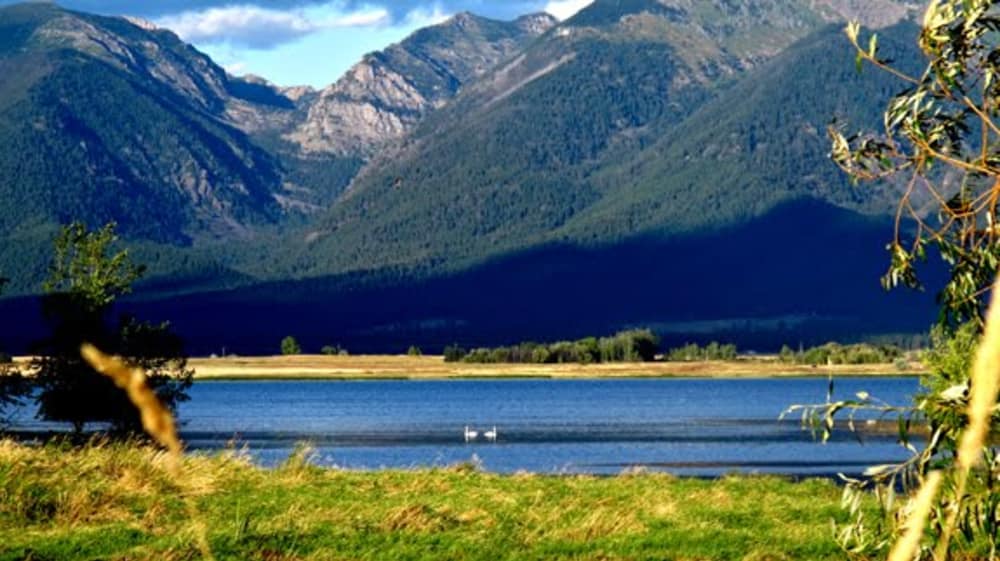 Trumpeter Swans in Montana near Bed and Breakfast, St. Ignatius, MT
Trumpeter Swans in the Shadow of the Mission Mountains
Birding in Montana is full of hundreds of possibilities from majestic bald eagles & redtail hawks to the State of Montana bird, the meadowlark, and the successful reintroduction of the Trumpeter Swan. You might say, "Swans in Montana?" Good news – Montana is one great place for the trumpeter swans to nest. They are SO beautiful to see in the wild!
The trumpeter swan is one of eight swan species, the largest swan in the world and the largest species of waterfowl native to North America. The elegant trumpeter swan is North America's largest waterfowl, with a wingspan of 8 feet, and they can weigh up to 30 pounds. The trumpeter derives its name from its call, described as resonant, deep, loud, and trumpet-like, resembling the notes of a French horn.
Trumpeter swans faced extinction in the early 1900's due to hunting and the draining of nesting grounds for agriculture, but these magnificent birds have made a gradual comeback. By 1932 only 69 trumpeter swans were known to exist in the lower 48 states. Trumpeter swan restoration and management programs that began in the mid-1900s in the U. S. and Canada gradually boosted trumpeter swan populations. The reintroduction of the trumpeter swans was successfully made by the Confederated Salish Kootenai Tribes in the last few years.
Trumpeter swans mate for life but do not breed until they are four years old, so recovery is slow. The trumpeter swan has a life span of 20 to 30 years. Trumpeter swans prefer large marshes and lakes ranging in size from 40 to 150 acres. They like shallow wetlands one to three feet deep with a diverse mix of plenty of emergent and submergent vegetation and open water. These shy birds prefer to nest in secluded areas on rivers, marshes, or ponds and almost always nest on an island or on a beaver lodge.
One of the best places to see trumpeter swans is at the 2,000 acre Ninepipe National Wildlife Refuge only 15 minutes from Bear Spirit Lodge B&B near St. Ignatius, Montana. Come see us soon!