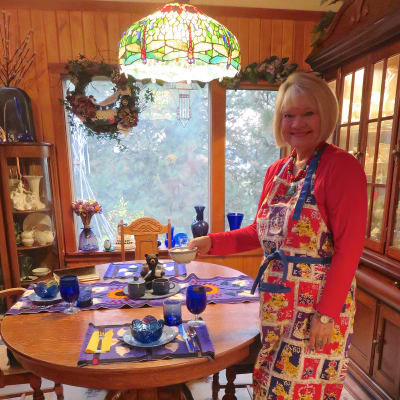 Breakfast
Leave your stress behind when you stay at our bed and breakfast in Montana. Eat healthy food. Immerse yourself in a nature getaway for unparalleled relaxation at the Bear Spirit Lodge.


DINING AREA & FOOD:
The Bear Spirit Lodge, our country inn, features hot breakfasts and local fruits, complimentary fruit, Amish cheeses and cookies in the evenings. The food is carefully selected at local farmers' markets, organic sources, and from the ovens of nearby Amish women. You can enjoy an early morning cup of coffee on the deck as the sun comes up over the mountains, or join other guests for friendly conversation.

The dining area is adorned with antiques, including the beautiful Irish Belleek collection and Waterford crystal that belonged to Ann's late mother. The table is frequently set eclectically with Haviland Limoges china, Irish Belleek, L.L. Bean huckleberry plates, and back-loomed, hand-embroidered Mayan tablecloths and placemats from the Mexican town of San Cristobal de las Casa, Chiapas.
Ann, the head "chefette", emphasized that her first job after graduating from Florida State University is helping her to be a great B&B innkeeper. "As the Consumer Affairs Manager for the City of Gainesville, Florida, I taught nutrition, Girl Scout Cook Badge lessons, created cookbooks, and put on hundreds of cooking shows. Watching Julia Child's TV shows served as my training tapes. It is fun to use recipes that I have collected for over 4 decades."
Please let us know if we can accommodate any special diet preferences with adequate lead time; i.e. vegetarian, diabetic, and other special needs.